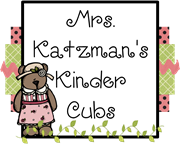 Just this Wednesday, I received the sweetest compliment from a blogger that really encourages me to keep on keeping on. Mrs. Katzman from
Mrs. Katzman's Kinder Cubs
and Mrs. McElveen from
Whooo Loves Kindergarten?
awarded me the Liebster Award! Mrs. McElveen doesn't have a blog button, but her blog is still precious! I've been seeing this award floating around the blogosphere lately, but didn't think I'd have the honor of receiving it. Thank you so much, my dear friends! You are wonderful! Oh, and you should go check them out if you haven't. :)
This award is named for the German word "Liebster," which translates to "beloved" or "favorite", and is given to a "new, up and coming blogger."
Here are the rules:
1. Link back to the person who gave it to you.
2. Post the award to your blog.
3. Give the award to at least 5 bloggers with less than 200 followers.
4. Leave a comment on the 5 blogs to let them know that they have been offered this award.
AND
the award goes to.... (drum-roll pleeeease!):
I'm also linking up to the
Newbie Bloggers Blog Hop
! I love this idea, and I'm excited to participate.
Here are my responses to the questions:
1. What state you are in

? Texas (All hail the mighty state!)
2. Your current teaching position: Kindergarten teacher (and super excited!)
3. Your teaching experience: I've gone through student teaching and I tutored a lot. This will be my first year of teaching and I can't wait to begin this journey.
4. When you started blogging: The middle of May, and I don't regret it at all!
5. Share a blogging tip/Blogging resource: Honestly, I learned so much from Teaching Blog Traffic School! I watched all the videos and I got to meet some fantastic bloggers who've helped me grow and expand. I love the community provided there! If you haven't checked it out, I really highly recommend it to you! (Seriously.) I also learned a lot about social media etiquette, how to host a good linky party, and what to do with Google+! Charity is great and I love how much time she puts in to help newbie bloggers get on their feet. Click the picture below to learn more about it through my referral!
I hope you enjoyed reading my responses! Thanks for being awesome!
What do you love about teaching blogs?